"Life starts all over again when it gets crisp in the fall." - F. Scott Fitzgerald. 
And with life, comes celebration!  As soon as the calendar turns to October 1st, the sensation to entertain falls upon us.  From birthdays, to anniversaries, to harvest gatherings to the consecutive holidays that ensue, the last three months of the year are the epitomes of entertaining.
While it is bittersweet to say goodbye to summer and the memories we have made, there is something renewing about the chill in the air and the warm colors of the foliage as we start each day.  So, how do we maximize this season that tends to be a blur for most? We must surround ourselves with family and friends and all of it's glory and in every sense - no pun left unattended.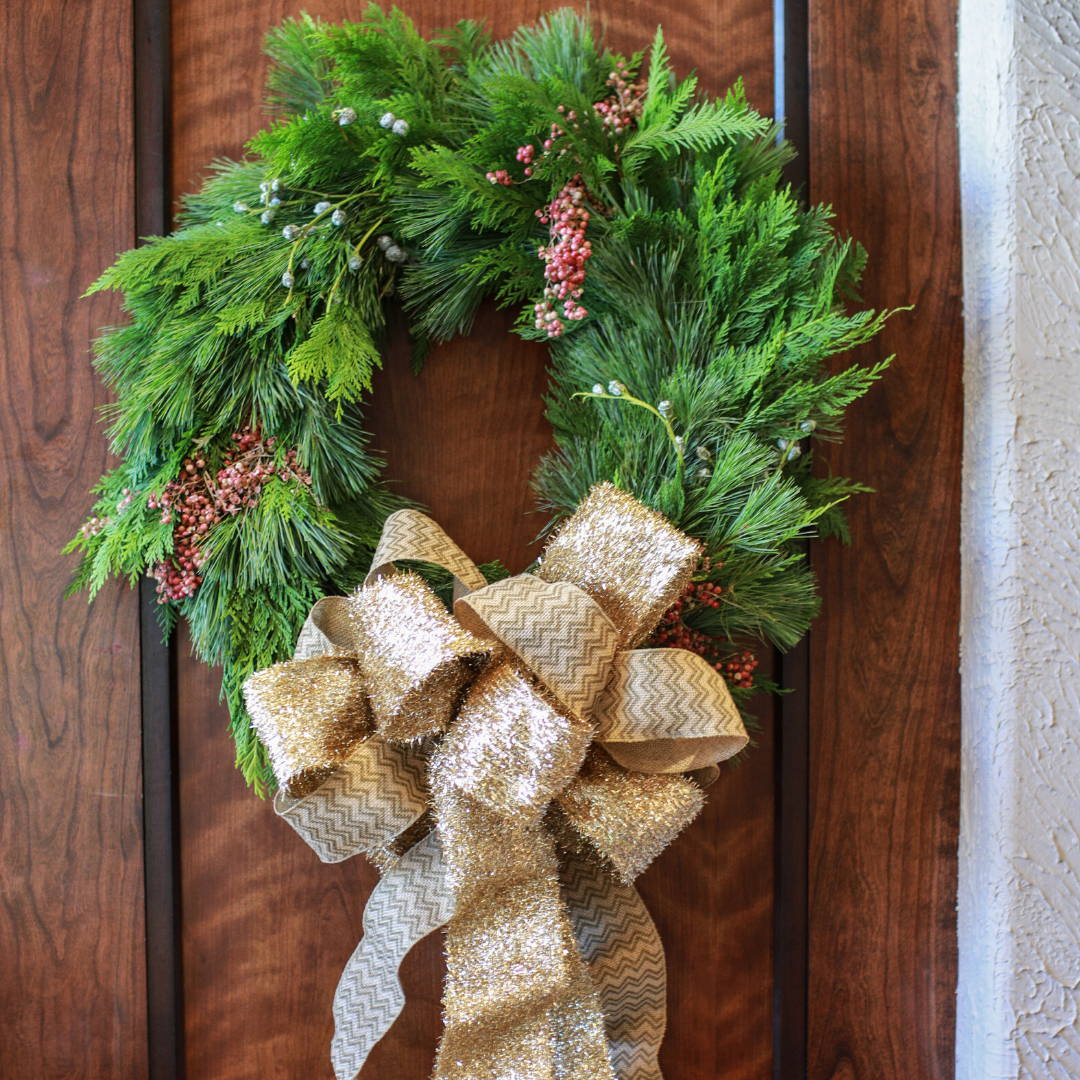 ---
"Leave" no leaf unturned. (I warned you about the puns!) Entertaining begins at the entry of your home.  Deck your halls outside too!  Your entry should be welcoming.  Hang a wreath on your front door and don't forget to hang one on the inside as well, so you too, can enjoy your embellishment.  In the fall, place fresh pumpkins on your porch and steps, add lanterns with solar or outdoor LED candles for glow and illumination.  In December, hang fresh evergreen boughs on your mailbox and carriage lights, in addition to your door wreaths.  Replace pumpkins with urns or planters full of birch or ilex branches that will collect and display the early winter frost.  Contribute your seasonal spirit to your neighbors as well as your arriving guests. 
---
---
Upon entry into your home, be sure it's scented throughout.  Scents immediately transport you to a place and time and release endorphins that relax the mind and evoke a sense of nostalgic euphoria.  The smell of pumpkin spice reminds you of Thanksgiving at your grandmothers.  The smell of fresh pine takes you to Christmas morning of yesteryear.  Allure your guests to rekindle these senses in your home and evoke new ones with scented candles, potpourri, diffusers, mulled spices or cloved fresh fruit.  As we approach December, fresh vases of evergreens will last weeks and scent multiple rooms at a time.  A word of caution, choose up to two scents maximum at a time.  Too many smells will actually counteract each other and may cause the reverse effect of pleasantry.  For example, choose cinnamon and clove or pine and eucalyptus.  Simplicity is key to success.
---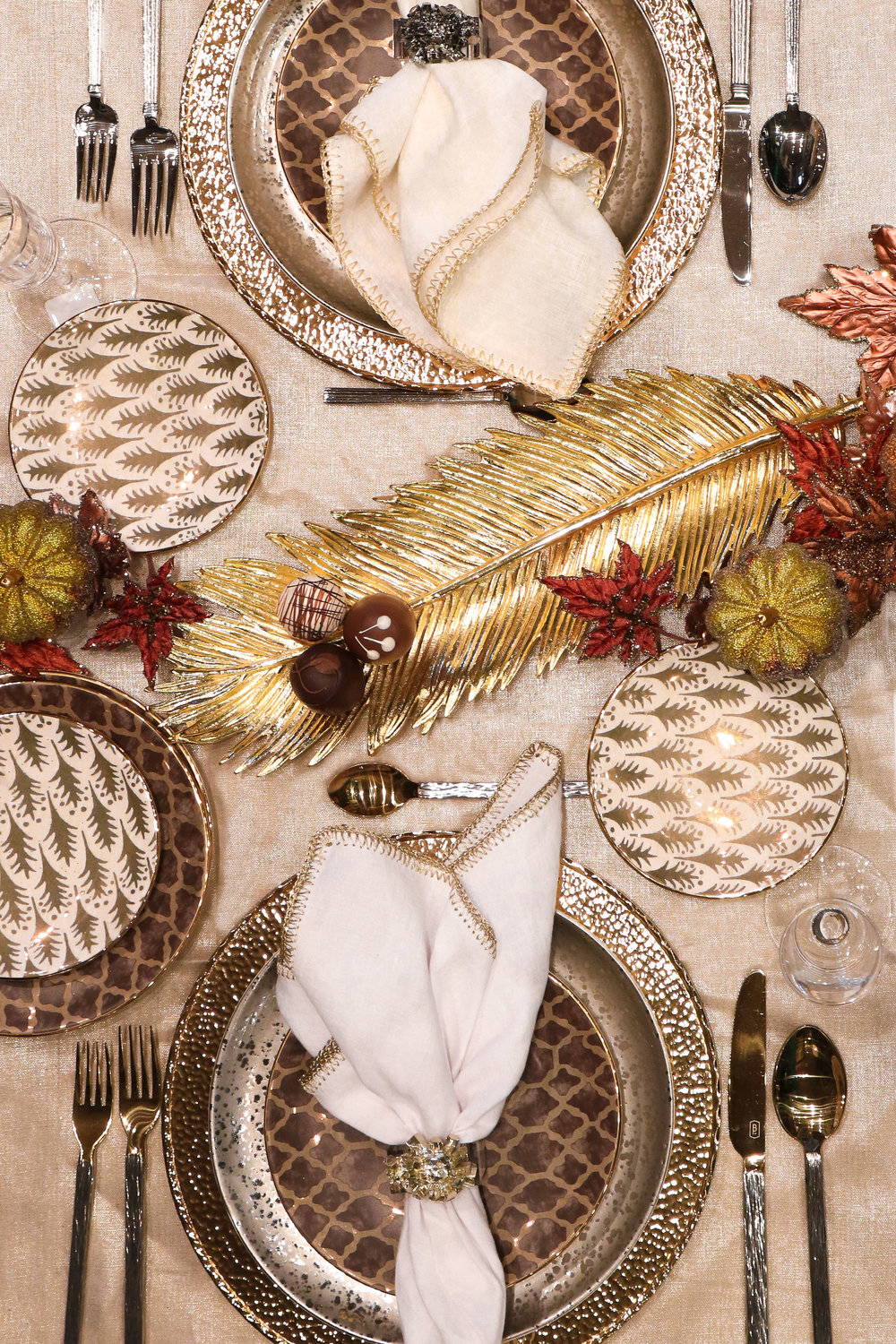 Layering is not only for scents, it applies to everything.  Your tablescape is another stage to showcase overlays of texture.  Linens or table runners are the foundation for placemats of fabric, cork, metal or petrified wood.  Next, chargers will adorn this regal theater of dining in mixed metallics, blown glass or beaded artwork.  Be sure to have candlelight at your table, in varied heights, ensuring glow at all levels for autumnal and winter banquet fare.  Don't be afraid to mix colors with your candles.  Keep your palette in the same tones, white and ivory, grey and charcoal or go glam with gold and silver.
When you are staging your buffet and refreshments, be sure to include your layers and textures.  Use elevations, whether you use tiered serving trays or wood boxes, glass blocks or stacks of books to stagger levels for your platters and bowls, you will not only create additional surface area on your serving space, you will make your food display more inviting and appealing.  Let your imagination run wild with serving vessels.  A wine box lined with linen napkins is homey way to present breads or whole fruits.  That random piece of marble or granite you've had in your pantry will make a beautiful surface for a fabulous cheese display.  Framed mirrors are gorgeous to display your baked treasures on at your dessert table.  Add sprigs of fresh autumn foliage and evergreens throughout.  These bursts of seasonal botanical freshness adds great contrast to your foods and lends holiday jazz.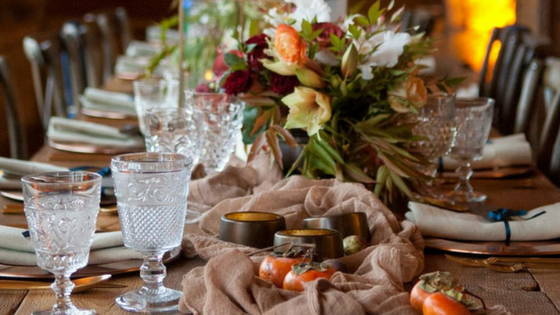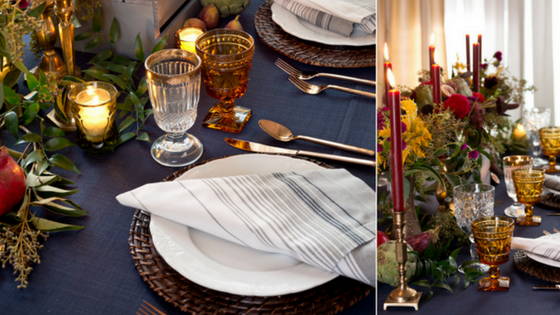 Think outside of the box for centerpieces.  Garlands of eucalyptus, magnolia, pepper berry and cedar will grace your Thanksgiving table and still be proud to beautify the holiday feast or the mantle.  Bowls and platters of fresh cloved fruit atop boughs of pine will last from Christmas though the New Year.  Be as uncomplicated as collaging multiple pillar, taper and votive candles down the center of your table from October through January.  There are several blooms available to add fresh scent in addition to beauty.  Potted narcissus are a traditional holiday plant that will grace any area of your home with fragrance and neutral white blooms. Consult your floral professional for lasting fresh arrangements that will grace your table and living areas.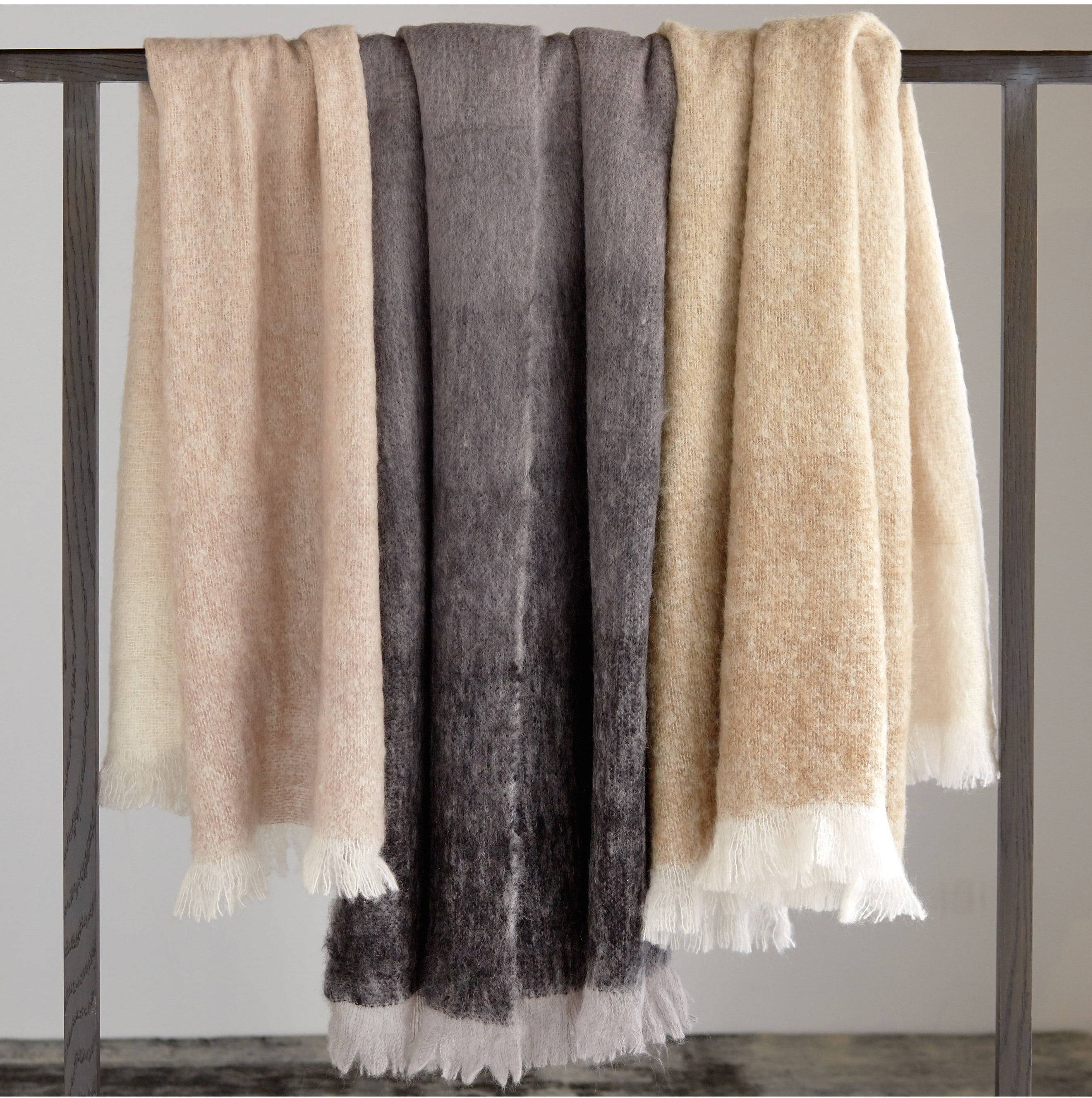 ---

Pillows, pillows, pillows…plaid, velvet, beaded, sequin, fur…there is no wrong answer here.  Jewel tones, black, red, gold, silver, copper - whatever your  festive taste, toss them on your sofas, chairs and beds.  Pillows are kisses of the season!  They invite you and your guests to sit, relax and stay awhile.  And while you're tossing pillows, sprinkle some cozy throw blankets around, inside and outside.  Fire pits make fabulous gathering spots for bundling up in blankets with cocoa and friends during the season.  Speaking of fire, as soon as the weather allows, light a fire. Nothing says holiday evening like a fire surrounded by friends and family.  
Let us not forget an important, yet overlooked room, the powder room.  Light a scented candle and keep seasonal fingertip towels by the sink at all times during your festivities. Adorn your vanity with a petite vase of fall leaves or evergreens with berries.  Nearly every guest will visit this room during your gathering.
Amidst all of the holiday hustle and bustle, remind yourself that you too need to enjoy the season.  Treat yourself to adding one new item to your holiday collection each year, whether it be an ornament, a decorative item or a tiny bauble.  Make it something that the following season makes you smile and reflect.  After all, that is what the holidays are about, enjoying the moments and making memories to cherish.
---
Sample Block Quote
Praesent vestibulum congue tellus at fringilla. Curabitur vitae semper sem, eu convallis est. Cras felis nunc commodo eu convallis vitae interdum non nisl. Maecenas ac est sit amet augue pharetra convallis.
Sample Paragraph Text
Praesent vestibulum congue tellus at fringilla. Curabitur vitae semper sem, eu convallis est. Cras felis nunc commodo eu convallis vitae interdum non nisl. Maecenas ac est sit amet augue pharetra convallis nec danos dui. Cras suscipit quam et turpis eleifend vitae malesuada magna congue. Damus id ullamcorper neque. Sed vitae mi a mi pretium aliquet ac sed elitos. Pellentesque nulla eros accumsan quis justo at tincidunt lobortis deli denimes, suspendisse vestibulum lectus in lectus volutpate.