4 Reasons & Advantages of Hiring A Wedding Planner
Advantages of Hiring A Wedding Planner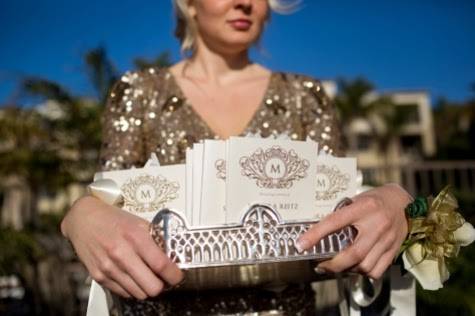 You may have your dream wedding all pinned and saved on your secret Pinterest board along with a few ideas of your own, but when it comes to actually planning and getting it all done...can you go it alone?

Some can take on the heat, while others would rather sit back and enjoy the journey of what is one of the most exciting yet hectic times of your life. We advise that you take advantage of hiring a wedding planner so that you can enjoy every moment of the beautiful planning process!

Here are 4 reasons you should hire a wedding planner:
Budgeting and Scheduling Can Save a Great Deal of Money
Wedding planners are often seen as another wedding expense, but the truth is that wedding planners have access to special industry discounts with almost every kind of service that you will need for your wedding. Your wedding planner does all the legwork of scheduling appointments and working within your budget. That way, you just show up to meetings and approve designs and menu options. Also, planners can get great rates and negotiate contracts with just about any vendor to ensure you get the best value for your money and thus, you have the best wedding possible.
 
They Save You Time with Insider Knowledge
A planner can take care of all the budgeting and scheduling for you saving you not only money, but time! And you know what they say...time is money, honey. It can be extremely difficult making decisions for your wedding so, all of the insider knowledge and options that a planner can give you insight to is priceless. You'll be exposed to new ideas. You can spend hours debating an idea and searching for countless others, but a planner can help you with those hard decisions and offer you options when you are stuck and can't make up your mind alone!


They Eliminate Stress
It is a wedding planner's job to keep you calm and stress free. They are supposed to install confidence in their clients to trust in their expertise and advice every step of the way. If that isn't reassuring, we don't know what is! Wedding planners are well organized and can instantly give you the information that you need to know. Without the stress and taking the big responsibilities off your plate, you won't need to worry about anything except enjoying your special day with loved ones. On your big day, you'll feel confident knowing that your planner is taking care of all the details to ensure that everything runs smoothly with your venue and all of your vendors!


Communicating with Vendors
Finding and securing a vendor comes with a lot of paperwork and contracts which can be overwhelming. A wedding planner takes care of all those details and any potential issues that may come up along the way and on the day of the wedding!

0 comments